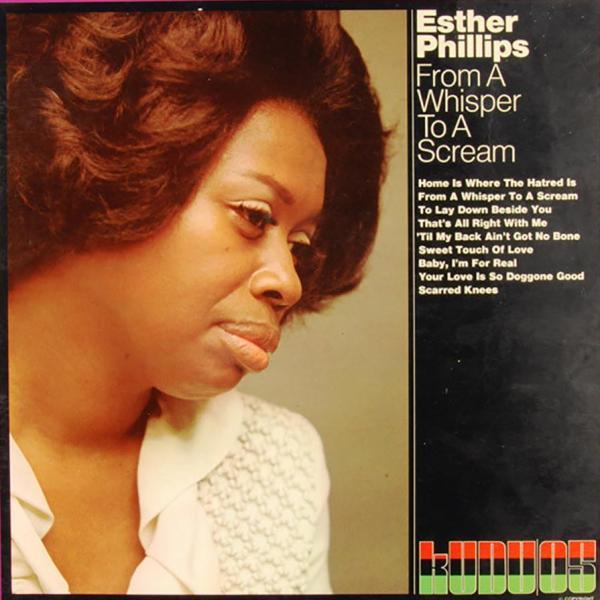 The first time I heard "From a Whisper to a Scream," it scared the hell out of me.
As a kid, I heard bits of material by Esther Phillips, but none of it appealed to me much, because eight-year olds were not her target audience, although I did like her version of "Release Me." It sounded pretty good for an old school 'pre-rock and roll' type thing, and it reminded me a bit of Dinah Washington (yes, I was somehow familiar with Dinah Washington as a little kid), but her cover of the Beatles' "And I Love Her" did not appeal to my grade-school-aged ears, because covering the Beatles seemed sacrilegious. I needed to grow up a bit and years later, I found myself astonished at how awesome her interpretation was. That change of heart led me to investigate her catalog a bit, and that's how I stumbled across "From a Whisper to a Scream" and found myself sitting slack-jawed and partly terrified. This collection of songs contained some of the most harrowing and intense vocal performances I'd ever heard. Parts of me can still hardly believe that this album even exists.
For something this direct and pain-wracked to work, you need chops (hers are magnificent), and you need the emotional honesty to let the truth come out, even when it hurts like hell. In many ways, I feel that "From a Whisper to a Scream" may be one of the most emotionally honest and compellingly intense collection of songs I'd ever heard. What could have inspired such vulnerability and depth of emotion? After a bit of digging, I'd discovered that Phillips' painful expressiveness is born of experience. Her professional career began at the age of fourteen, when she joined the Johnny Otis Review in 1950, billed as "Little Esther". She enjoyed instant success with a startling run of seven top 10 R&B hits all in her first year, but they stopped as quickly as they started, with a dry spell that lasted for over ten years. In that time, she developed a chronic drug addiction, prompting a move to her father's home in Houston in an attempt to recuperate. To highlight the horror of her situation, she found herself backstage in a Houston nightclub when Johnny Ace accidentally shot himself in the head on Christmas Day. It wasn't until 1962 that she rebounded, releasing the songs mentioned above, but her heroin addiction once again overwhelmed her career. By 1972, her addiction virtually defined her.
Despite her personal demons, Phillips was signed to a small jazz label called Kudu Records, and teamed with James Brown's arranger Pee Wee Ellis, who assembled a dream team of backing musicians, including Cornell Dupree, Bernard Purdie, Richard Tee, Hank Crawford and Gordon Edwards. For material, Ellis and Phillips assembled songs that bore a direct parallel to her personal life. It could have been a morose mess, but Phillips tore into the dynamically intense and sympathetic arrangements as though she needed to summarize the pain that had defined her life. Gil Scott-Heron's "Home Is Where the Hatred Is" opens the album with a stunning portrait of drug addiction that sets the tone for the balance of the record. A version of Marvin Gaye's "Baby I'm For Real" is so strong that it trumps the original (imagine anybody else out-performing Marvin Gaye at his own game!), while Allen Toussaint contributes the title track that only furthers the record's sense of despair. The emotional honesty portrayed on "From a Whisper to a Scream" came to fruition a few years later, when Esther Phillips succumbed to her addiction and passed away in 1984 at the age of 48.
March 1972 - Billboard Charted #137