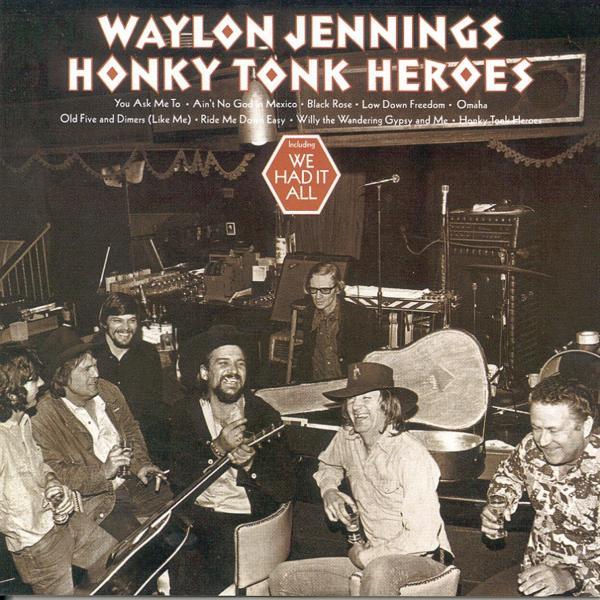 While 99.9% of the Nashville mafia refused to acknowledge the youth movement as anything more than despicable, there were a few country artists that saw some value in the counterculture.
Willie Nelson, Kris Kristofferson, Billy Joe Shaver and Waylon Jennings stood on the razor's edge, growing their hair while somehow balancing themselves between the disparate worlds, until momentum pushed them over the edge toward the less regimented side of things. "Outlaw" country music was the label attached to these outsiders, but the actual process of separation took a bit longer than the romanticized vision that still persists.
Jennings started his career as a disc jockey, until Buddy Holly took him on as a bass player. It was while touring with Holly that Jennings surrendered his seat to the older 'Big Bopper', J.P. Richardson, who had been suffering with a bad cold and wanted relief from the freezing tour bus. The subsequent plane crash that killed Holly, Richardson, Richie Valens and the pilot is remembered as 'the day the music died'. Haunted by the accident, Jennings spent the next few years job-hopping and playing sporadically until, at the behest of Chet Atkins, he more or less drifted to Nashville.
Now an RCA recording artist, Jennings found himself with a few hits on the country singles charts, as well as a burgeoning acting career. The success was great at first, but the limitations soon made him feel boxed in. Nashville frowned on performers recording with their own bands, preferring to utilize studio musicians, and the 'countrypolitan' sound often utilized heavy orchestration while shunning traditional country instrumentation.
Things worsened when Jennings was told that he could not play guitar on his own record, nor even choose his own material. Rebelling against such strictures, Jennings stuck to material that he wanted to play, grew his hair (and a beard) and let his contract lapse. By 1973, the writing was on the wall, and RCA capitulated, renewing Jennings' contract, while giving him full creative control in the process.
"Honky Tonk Heroes" was Jennings' second album under his revised contract, and it served as the album that introduced him to a much broader audience. Finally, he was able to shun the session players and utilize his own band. Interestingly, a new acquaintance named Billy Joe Shaver wrote or co-wrote virtually every song on the record. Chet Atkins hesitated at recording an album's worth of songs by an unknown 'outsider', so using the power availed by his new contract, Jennings simply fired Atkins and did it himself, bringing in Tompall Glaser to co-produce. Despite the contract's terms, RCA executives still balked at the final results and delayed the record's release for nearly a year.
The subsequent success of "Honky Tonk Heroes" and its two singles ("Because You Asked Me To" and "We Had It All", the one song not penned by Shaver, left over from the Atkins sessions) cemented Jennings' reputation as a new breed of country star, an "outlaw" who wanted nothing to do with the Nashville establishment. Until now, there were dozens of rock musicians who dabbled in country, but Jennings is among the first to reverse the process. A movement had been started, with Jennings and Willie Nelson at the helm.
Featured Tracks:
Honky Tonk Heroes
Old Five and Dimers
Williw the Wandering Gypsy
Low Down Freedom
Omaha
You Asked Me To
Ride Me Down Easy
Ain;t No God in Mexico
Black Rose
We Had It All
July 1973 - Billboard Charted #185