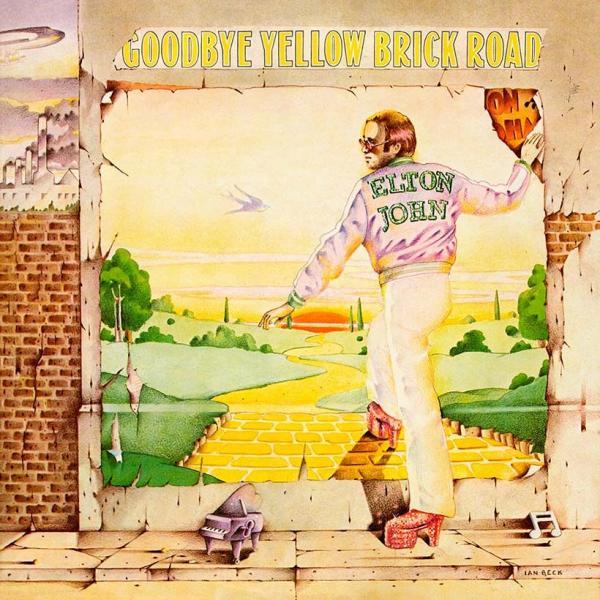 'Goodbye Yellow Brick Road" easily rates as one of the most blatantly commercial albums of all time, but that doesn't make me dismissive. The cover signified the stylistic change with a cartoon vision of the high-heeled Elton stepping into a cinematic dream world much like Dorothy's "Wizard of Oz", compounded by comic-strip images that accompany each lyric inside the gatefold cover.
At the time of its release, I loved "Goodbye Yellow Brick Road" and played it endlessly, as did every one of my other barely pubescent friends. The dramatic opening, the seemingly relentless hits, the many nostalgic references to Hollywood and the (now sort of weird) sexually lurid tracks ("Sweet Painted Lady", "Dirty Little Girl", "All the Girls Love Alice", all on side three)) titillated my young mind and felt perfect at the dawn of the 'Me Decade' seventies.
Gus Dudgeon's production is as bright as fluorescent candy floss, so sweet that it makes the opening funeral dirge sound like a trip to Disneyland. It's ridiculously over the top, but if John's intent was to recreate himself as a caricature, he was spectacularly sucessful.
Featured Tracks:
Funeral for a Friend/Love Lies Bleeding
Candle inthe Wind
Bennie and the Jets
Goodbye Yellow Brick Road
This Song Has No Title
Grey Seal
Jamaica Jerk-Off
I've Seen That Movie Too
Related Shows