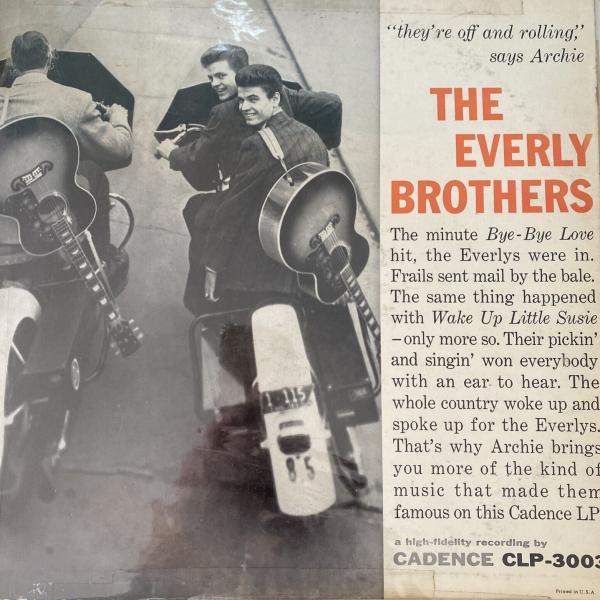 The Everly Brothers were something of a phenomenon for their times, reaching the top five on the pop, country, and R&B charts, and breaking the top 20 with their debut album.
Their vocals were remarkable and their recordings were infectious and universal in their appeal, but success was no sure thing. Songwriting couple Felice and Boudleaux Bryant tried to push "Bye Bye Love" to over twenty-five recording artists and found the song rejected every time, until the Everlys decided to give it a shot. The result was mutual beneficence, with the Bryants finding a muse and the Everlys finding songwriters who could help sustain their career.
Stylistically, the Everlys tore more than a few pages from the Louvin Brothers' songbook, but they replaced death and tragedy with adolescent angst. Teenagers probably never heard of the Louvins anyway, so no harm was done. The Everlys and the Bryants would team up to record another twenty-plus classic tracks together. The first three appear on this album ("Bye Bye Love", "Wake Up Little Susie", "Brand New Heartache"). Add a pair of Ray Charles tunes, a pair of credible Little Richard covers, and three very good self-penned compositions and the result is a classic album for its time.
Tracks include:
This Little Girl of Mine
Maybe Tomorrow
Bye Bye Love
Brand New Heartache
Keep a Knockin
Be-Bop-A-Lula
Rip It Up
I Wonder If I Care as Much
Wake Up Little Susie
Leave My Woman Alone
Should We Tell Him
Hey Doll Baby
January 1958 - Billboard Charted #16
Related Shows