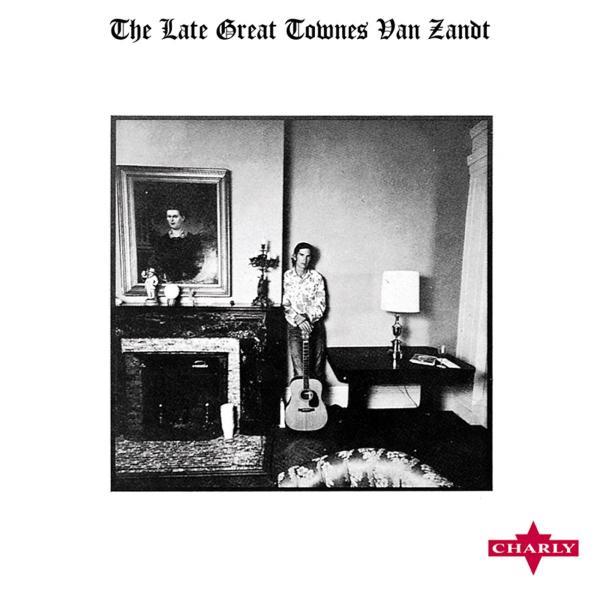 It was less than a year since Townes Van Zandt released "High, Low and In Between" (see #145). When a songwriter releases two brilliant albums in such close proximity to one another, it seems only natural that said songwriter would exact at least some recognition for his troubles, but that's not the way world worked for Townes Van Zandt.
In retrospect, I can't help but wonder if that was by design. It doesn't seem like Townes cared very much for fame or money, and his own behavior betrayed his indifference to the potential rewards of his trade. It's hard to say if he avoided fame casually or with a vengeance, but regardless of his convictions, he pretty much got just what he wanted. In his lifetime, he remained a nonentity, except to the few songwriters and musicians who were astounded by his work.This album's title, "The Late, Great Townes Van Zandt," is both ironic and prophetic, referring to a number of near-death experiences due to heroin abuse, while also subtly acknowledging his career as a non-starter while simultaneously foretelling of his early passing. In actuality, the title was his manager's idea of a ploy for attention, hoping that a "Paul is dead' scenario might result, but that would imply that there were fans to care in the first place, of which in said manager's own words there were "zip, zero, nada."
"The Late Great Townes Van Zandt" qualifies as a seemingly casual masterpiece. There's a throwaway tune ("German Mustard"), a rerecording of a previously released song ("Sad Cinderella") and, for a songwriter's showcase, an abundance of cover songs, including a shopworn classic ("Honky Tonkin'"), a country pop ditty ("Fraulein") and a nod to a songwriter friend (Guy Clark's "Don't Let the Sunshine Fool Ya"). It doesn't help matters that he backloads the album with the best of his own material on side two, at a point where most first impressions would already have been formed, but as I said earlier, perhaps the song order (and choices) unconsciously betray his aversion to recognition. In other hands, "Pancho and Lefty" served as the strongest cut on albums by Emmylou Harris, Willie Nelson and Merle Haggard. When asked about the inspiration for the song, Van Zandt himself claims that it pretty much just came to him, with no clear idea of what the song is about. "If I Needed You" is a straightforward love song that has come to be one of his most well-known and loved compositions, a malleable tune that works for just about anyone who sings it. As if to contradict himself, "Silver Ships of Andilar" is a dense and vague epic that unfolds like a multi-versed Bob Dylan collage of poetic allusions. "Heavenly Houseboat Blues" is (at the very least) the fifth lyrical re-write of The Carter Family's "I'm Thinking Tonight of My Blue Eyes," ending the album with a nod to America's country music songwriting tradition, while subtly placing himself somewhere within that lineage, which is squarely where Townes Van Zandt belongs.
November 1972 - Billboard Did Not Chart
Related Shows