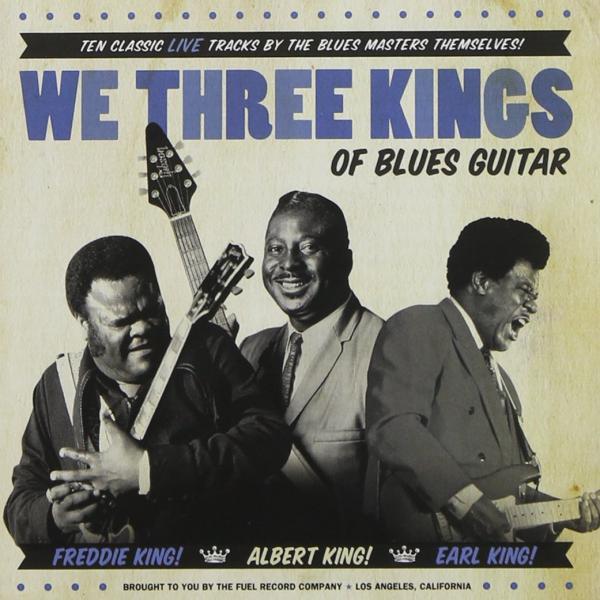 We Three Kings - Albert, Earl & Freddie King
Episode 1
Episode date - October 20, 2006
When Blues enthusiasts mention the 'Three Kings of the Blues," they are usually referring to Albert, Freddie, and B.B. King. For our purposes, though, we need to realign that way of thinking. Considering his longevity and the seismic impact of his presence, B.B. stands alone above all other blues guitarists; he is a King of Kings, so to speak, and more than deserving of an entire program dedicated exclusively to his career. Nevertheless, there is no shortage of blues guitarists named King, and it isn't a stretch to include New Orleans' Earl as a King of the Blues, so today's show features highlights from the careers of these three Kings.

Perhaps the oddest factoid concerning today's show is that none of featured musicians were born with 'King' as their surname. To my knowledge, the only Blues guitarist who was born a 'King' was B.B.; Albert was born Albert Nelson, but changed his name to King after hearing B.B. King's recording of "3 O'Clock Blues." Freddie was born Frederick Christian, but changed his surname as well, in a similar epiphany. Earl King was born Earl Silas Johnson, but had a promoter who intended to bill him as 'King Earl'. That plan was scuffled when the record labels got the names crossed, listing him as Earl King, and the gaffe stuck. There's even a fourth King named Little Jimmy who fits this bill (he a relative newcomer, though, so it's too soon to include him in our list of Blues "Kings") - He was born Manuel Gales, but changed his name in honor of his hero Albert King. So, B.B.'s surname sure did get passed around quite a bit.

Despite the similarities of their name, and a nearly unanimous recognition of B.B. King as their figurehead, each of these guitarists has a style that is quite unique and decidedly different from the bent-single note style that made B.B. famous. In today's show, we'll explore each of these styles, and discuss the impact of these three Kings.
Music includes;

1) Don't Throw Your Love On Me So Strong – Albert King
2) Born Under a Bad Sign – Albert King
3) Crosscut Saw – Albert King
4) Oh Pretty Woman – Albert King
5) Trick Bag – Earl King
6) Come On (Let the Good Times Roll) – Earl King
7) Hideaway – Freddie King
8) Have You Ever Loved a Woman – Freddie King
9) Sen-Say-Shun – Freddie King
10) I'm Tore Down – Freddie King
11) San Ho-Zay – Freddie King


For further listening, we suggest the following;

Albert King – "Born Under a Bad Sign"
Freddie King – "Hideaway: The Best of Freddie King"
"Crescent City Soul: The Sound of New Orleans"
William Bell – "The Best of William Bell" (contains original recording of "Born Under a Bad Sign")

And for comparison (all featuring Eric Clapton);

Cream – Strange Brew
Cream – Born Under a Bad Sign
John Mayall's Bluesbreakers – Hideaway
Derek & the Dominoes – Have You Ever Loved a Woman

Plus…

Jimi Hendrix - Come On (Let the Good Times Roll)
Freddie King – Come On (Let the Good Times Roll)

…and if you're interested in hearing more by the Blaggards, contact us here at American Hit Network
Channel 128 - We Three Kings