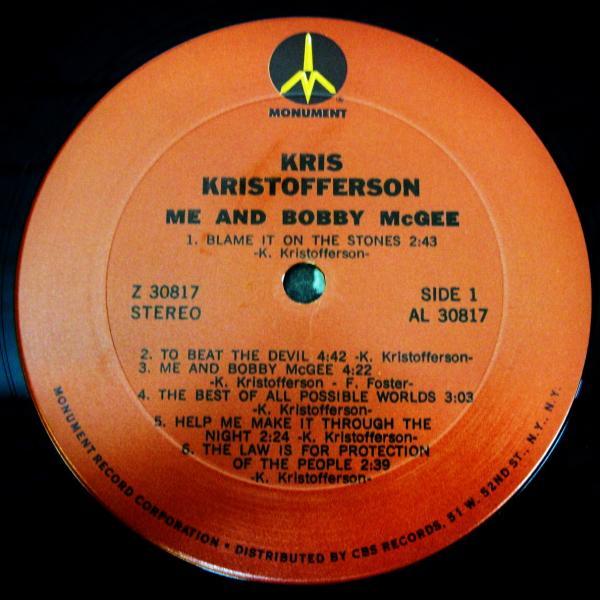 At the close of the sixties, there was literally no common ground between Nashville and hippie culture. Excepting Dylan's "Blonde on Blonde" sessions, the elite producers and publishers who ran Nashville's music scene closed its doors to outsiders in general, and they certainly were not about to welcome any hippie trash into their sanctum.
As far as the insiders were considered, Nashville had a lock on country music and was not about to see their culture infested by disrespectful vermin. The reasons were political as much as they were musical, with an entrenched conservatism that verged on rigor mortis. The Byrds found this out the hard way, as did Gram Parsons. Even the good ol' boys from Bakersfield such as Buck Owens and Merle Haggard were held at arms length. With the world going through catharsis, Nashville disavowed anything that even suggested change. Somehow, in the midst of this stifling paralysis, Kris Kristofferson found a way to dance on the head of a pin, walking a knife-edge that somehow captured the hippie ethos while remaining firmly entrenched in Nashville culture. It was a musical miracle, as well as a social one.
Kristofferson's past may help to explain his penchant for achievement. He came from a military family that ensured he got the best education available, including a Rhodes scholarship from Oxford University. He was also an active sportsman, with numerous accolades for his achievements in football, rugby and boxing. He joined the military where he served as a helicopter pilot, and earned the rank of Captain. After serving, he taught literature at West Point, with the ambition to be a novelist. His future was well laid out, but he quit it all to follow a career in music, a choice that caused his own family to disown him.
With no connections, he moved to Nashville and literally started at the bottom, working as a janitor for Columbia Recording Studios. He unsuccessfully attempted to push his songs to the performers who came to the studio, until his frustration caused him to take extreme measures. When Johnny Cash never responded about a tape he had passed to him, Kristofferson landed a helicopter in the singer's front yard. Needless to say, Cash noticed, and admitted that he never even listened to the tape. Soon afterward, Cash recorded "Sunday Morning Coming Down," and Kristofferson's life changed in the process. Soon, all of Nashville seemed interested in his compositions, which led to recognition as a performer and a recording contract with Monument Records.
It took a certain mindset to appreciate Kristofferson's versions. His songs resonated all over the radio, with interpretations by Ray Price ("For the Good Times"), Sammi Smith ("Help Me Make It Through the Night") and Bobby Bare ("Come Sundown"), among numerous others. These recordings earned him accolades and awards all over Nashville, but it was Janis Joplin's posthumous release of "Me and Bobby Mcgee" that made him a behind-the-scenes pop star. Monument re-released his debut in 1971, changing the title to "Me and Bobby Mcgee", and this time the album caught some traction. Now firmly established as one of Nashville's best songwriters, his own recordings started to sell, providing the basis for his next career as a movie star.
June 1970 - Billboard "Did Not Chart"