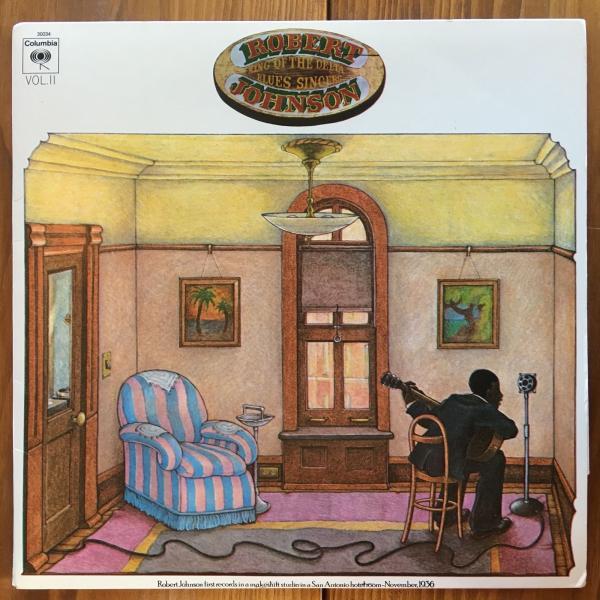 What on earth caused Columbia Records to take so long releasing this record?
By 1970, the demand for original folk blues recordings had already peaked years earlier. Back in the early '60s, Robert Johnson was proven to be one of the most influential of all the blues songwriter/performers to ride the crest of renewed popularity brought on by the folk movement, and the "Volume 1" collection was sucked dry by white blues artists hungry for 'authentic' material, making Johnson perhaps the single most cannibalized blues songwriter of all time.
With so much global interest, it is criminal that Columbia would hold back on releasing the remaining half of Johnson's recorded oeuvre, but they did. It defies common sense, not only for artistic reasons, but for monetary reasons as well. In the early sixties, such was the interest in genuine folk blues that performers were being searched out, quitting day jobs as laborers, bus drivers, janitors, etc., and suddenly brought into the spotlight, performing at the Newport Folk Festival and returning to a recording studio for the first time in thirty years. Mississippi John Hurt, Fred McDowell, Sleepy John Estes, Gary Davis, Lightnin' Hopkins and Son House all saw their careers unexpectedly revived in the '60s. Johnson wasn't so lucky, having been dead for almost thirty years, but his recordings were a mother lode for the burgeoning rock and roll audience.
"King of the Delta Blues Singers" compiled sixteen 78 RPM recordings that Johnson recorded in the 1930s onto a 33 RPM album. When finally re-released on an LP, Johnson's audience of Black laborers were no longer around, or no longer cared to hear this stuff. This time, the large majority of listeners were white blues enthusiasts, hearing this music for the first time in their lives, and they were stunned. It's hard now to comprehend the impact this album had on students of the blues. For instance, this was the first time that a young Eric Clapton heard "Crossroads", or Jimmy Page heard "Traveling Riverside Blues." I don't know if a more influential album exists in the entire canon of popular music. Even more stunning, this represented only half of Johnson's recorded output.
Columbia could have easily capitalized by quickly releasing a second volume, but for reasons unknown to me, they decided to hold back. Nevertheless, the floodgates had been opened. Now everybody started to dig in Robert Johnson's well. The Rolling Stones unearthed "Love in Vain" and "Stop Breaking Down." Just about every slide guitar player in the world took a shot at "Dust My Broom", and there wasn't a blues guitarist worthy of his strings if he didn't play a credible version of "Sweet Home Chicago".
Because Columbia, in their infinite wisdom, saw unfit to release any of these original recordings in the new LP format, all of this activity had been generated by searching out the original 78's. By the time Columbia got around to it in 1970, these songs hit the streets as an afterthought, but that cannot lessen their impact on popular music, nor dilute the importance of this release. A subsequent 2-CD package compiled all of Johnson's recordings into one place, making the original albums obsolete, so when (not if) you decide you're ready to absorb Robert Johnson, there is (finally) a single package that does it all.
June 1970 - Billboard "Did Not Chart"