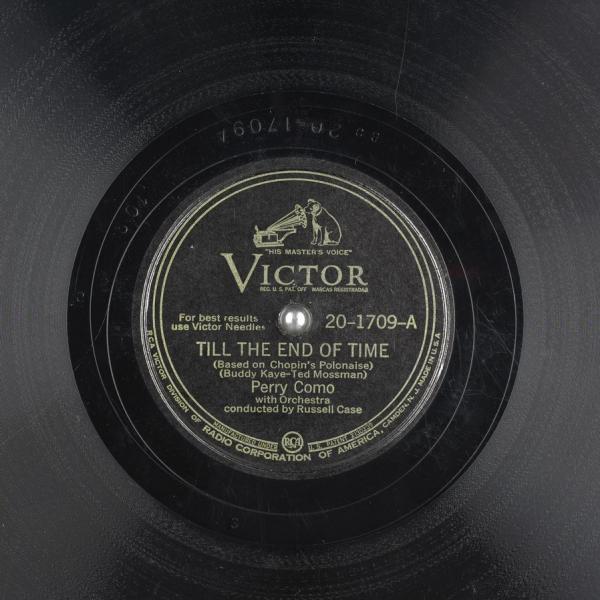 Radio Days: After The War
Episode 12
Episode date - November 1, 2019
The strike that severely disrupted the music industry ended in November 1944, followed less than a year later by the end of World War II.
The war had an incredibly profound influence on the state of our music culture, but so did the strike. Big bands were still all the rage as the war ended, but the sound changed, growing distinctly harder in one direction, and softer in the other. Mid-tempo swing seemed to vanish, replaced by brassy syncopation on the one hand, and mellow pabulum on the other.
Since musicians could not record during the strike, there is precious little evidence of the profound change that was taking place in jazz music, either. Innovators like Charlie Parker and Dizzy Gillespie were revolutionizing jazz, but nobody got to hear much of it except for the few who could attend nightclub performances on 52nd Street in Manhattan.
From a populist perspective, it was the mellower music that started to dominate radio airplay, with the innovators pushed aside. Most listeners found the 'mellow' music to be soothing, a welcome change after the stress of the war, while the new jazz of 'be-bop', as it was called, alienated the mainstream audience and thus the radio shows that otherwise could promote them.
As we are focusing on radio, this show focuses mainly on the shift to mellower sounds, featuring:
Opus One – Tommy Dorsey
It's Only a Paper Moon – Bennie Goodman
Just a-Sittin' and a-Rockin' – Stan Kenton
Artistry in Rhythm – Stan Kenton
Sentimental Journey – Les Brown
Till the End of Time – Perry Como
There! I've Said It Again – Vaughn Monroe
Laura- Woody Herman
On the Atchison, Topeka and the Santa Fe – Johnny Mercer
Oh What It Seemed to Be – Frankie Carle
To Each His Own – Eddy Howard
The Old Lamplighter – Sammy Kaye
Channel 26 - Radio Days